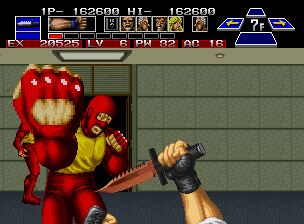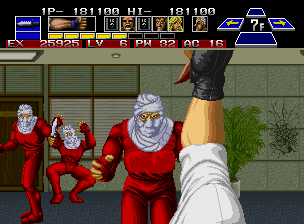 After the bullshit unavoidable damage you had to take from the last boss, it's nice that the game put a health restoration room on this floor. But it's a bit of a walk to get there! Don't skip the available machinegun on the way there either, more bullets are always a nice thing.

We've got another leader to deal with on this floor... and strangely enough, one of the hostages says that it's King, the big boss of the entire terrorist organization? What an interesting turn of events, you'd think he would be at the highest point of the building. Sure would be nice to catch a break for once...
And located at the last door before the elevator is this dapper fellow in a suit. Hey, maybe it is King after all!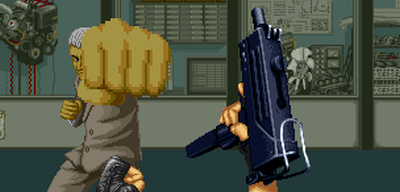 ...but for someone who's supposed to be King, he doesn't really put up too much of a fight. He punches and kicks... and does a rapid triple kick... and that's about it. His attacks aren't very fast either, he's actually pretty easy to kill with just the knife if you feel so inclined.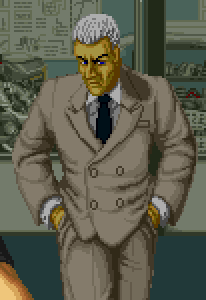 Really do love that walking animation with his hands in his pockets though. So casual!
When you do enough of damage to him, he doesn't die immediately. No, instead he walks back up to you, and then... get ready for a surprise...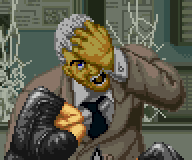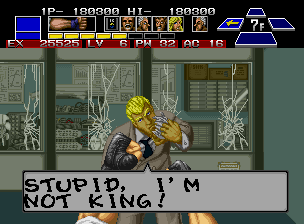 .....um.... okay...?! What the fuck just happened here???
If you don't have the game manual, here's the lowdown - the man you just killed was not King, but another leader of the group named "Back Gallop" (yes, seriously). The manual also states that "he can disguise himself as other characters so as to sneak into the center of the enemies base". So wait, was he really one of the bad guys? Was he someone on your side who had disguised himself as King and was infiltrating their base, but you accidentally killed him? Or was he a bad guy who just happened to have a cosplay hobby? I'm seriously confused. Maybe there's more explanation about this in the Japanese version which got lot in translation to English? Probably not.

Aaaaanyways. Upon killing him you'll get key card #2, although for some reason the 2nd card replaces the third boss profile at the top instead of the second. Don't worry, you didn't miss anything. Just take the elevator to the next floor.
---
Tadoya Building - 8F
Holy shit, it's Elevator World! Geez, where do we go from here?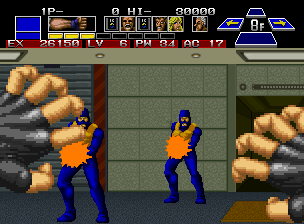 The only enemies on this floor are machinegun guys. This is good since you can get through without having to actually fight anyone but you're going to have to keep crouching to move between all the available elevators.
The first elevator will take you to 9F. This is where you want to go if you're just interested in making progress through the game as quickly as possible.
However, this floor is also the key to... well let's call it a sidequest. The other elevators can be used to pick up the brass knuckles, which greatly increases the power of all attacks done with your right arm (most notably the hook punch). If you're playing the game like a man and doing the hook punch loop, then it's worth your time to go get the brass knuckles. But it's not absolutely necessary for finishing the game, obviously.
If you want to skip it, just go to the next page where 9F starts. Otherwise, keep reading.


Okay, so the set of three elevators in a row. The first one will take you to 13F, which is not where we want to go yet. Go in the elevator in the middle, which will take you to 12F. Strangely, the two "dead end" elevators on 4F and 5F also lead to 12F, but this elevator takes you to a completely different section.
---
Tadoya Building - 12F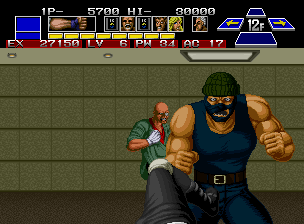 This floor is kind of a pain in the ass because most of the encounters you seem to run into will involve midbosses. Gandhi and Muscle Dude will show up often to slow down your progress. Hopefully you've hit experience level 7 by now.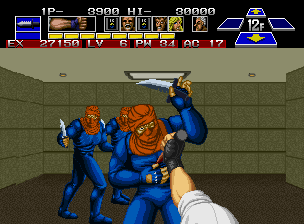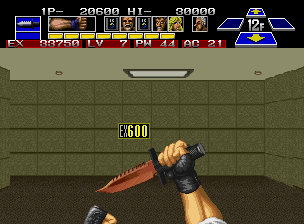 However, there's another strange quirk to this floor - all the enemies you fight in the vertical corridors award a whopping 600 EXP for some reason! This is the highest amount of EXP you can get from a single enemy in the game, even the enemies on the final floor are only worth 400 EXP. By comparison, the annoying midbosses that will plague you in the horizontal sections of this floor are only worth 300 EXP. If you're somehow interested in leveling up as quickly as possible before doing the rest of the game, you could stay in these hallways for a while to build up EXP faster than you would wasting your time fighting midbosses. I'm not sure why you would want to do this though!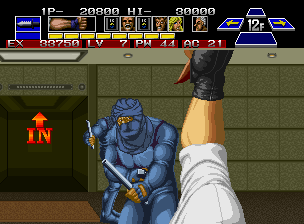 Anyways. Your goal on this floor is to reach room A at the very end. You'll see an elevator along the way... DO NOT GO INTO THE ELEVATOR WHEN YOU FIRST REACH IT! It's a one-way elevator that takes you back to 8F, which would be a colossal waste of time.
After you've talked to the goofball in room A, now you can go back and take the elevator at the top.

It will bring you back to 8F, and now you'll be at the easternmost part of the floor. Start walking to the left, skip the first elevator you come across (it's the one that goes to 12F, which you just came from), and then enter the elevator to the left of that to go to 13F.
---
Tadoya Building - 13F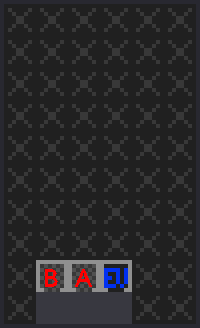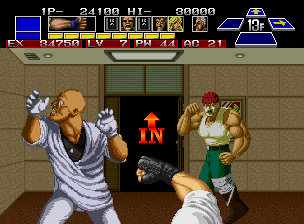 Gandhi and Muscle Dude are all over this floor too, but hey at least it's a lot shorter than the 12th floor was.
The guy in room A has something else to say about the shutter, but it's not necessary to talk to him, you can skip this room if you like.
Instead, go to room B at the end. If you talked to the guy about the shutter on 12F, then this door should be open. If you skipped 12F, this door will remain locked and you'll have wasted your time. But if you followed these directions it should be open, and so...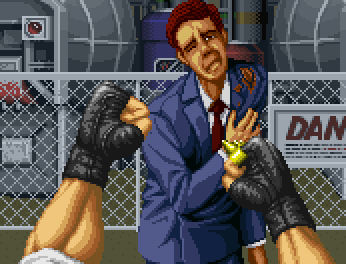 BRASS KNUCKLES GET!


The brass knuckles are a strange item - it goes over your right fist and permanently increases the attack power on two of your attacks - the hook punch, and the third punch in an A-A-A combo. Strangely, it does not seem to powerup the charge punch at all (unless it's charged up all the way, maybe? it doesn't seem to increase damage on partial charges... and since you almost never get a chance to fully charge a punch then why bother). More importantly though, the brass knuckles are a PERMANENT item that stays with you even if you die and continue! So at least all that sidequesting wasn't for nothing if you die now.



Improving the damage on the third A-A-A punch isn't that helpful - although you do seem to get counterattacked less by enemies with the brass knuckle equipped, you should still be using the knife if you're using the strafing strategy. However, if you do knock an enemy down and have the chance to go for the hook punch loop, the brass knuckles will increase the damage on every hook punch, making it the fastest way to take down midbosses/bosses. I don't know the exact amount of damage that the brass knuckles add - for the most part, it'll usually do double the damage of a regular punch / rusty knife stab. If you're "overleveled" and killing enemies with only a few hits, the brass knuckles seem to do a little less extra damage than they would if you were "underleveled" in the same situation, if that makes any sense. Either way, it's some nice extra damage so pick it up! Just a shame that it appears so late in the game...


Now then. After you've gotten the knuckles, fight your way back to where you came from, which will put you back on 8F yet again. Walk to the left to the first elevator you see, and proceed to the 9th floor.
---



Next page - more terrorists, more bosses, and THE NAILS